Musibrarium
Magic Ink
Cheeze
Poofter's Froth
Galoot Update
Just Another School...
Search TBN
Get Update Notification
Who Did What Blurb
This whole monstruousity was originally conveived February through March 2001 by the members of The Big Note - a Frank Zappa YahooGroup. After an arduous gestation period, this site was birthed on April 11 2001. True to the essence of collaborative effort, these people are held responsible.
All content:
© TheBigNote 2001-2004
unless specified otherwise.
Speed will turn you into your parents.
Donate:

Powered by MovableType
Ugly Counter Image
Say CHEEEEESE!! Pt. 5
Yet more member pics — a handsome bunch all of them!
S&M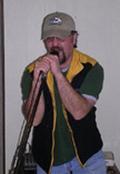 "I'm in Creed !" he shouts...
Der Unkle Meat

Do you have an uncle whose name is Meat? We do!
Magdalena

"Go eat shit!" she said, and ran on down the hall.
Right on, Magdalena!
Illinois Enema Bandit


"The hair is on loan from Saul's hair hut."
BHJ with Lisa Loeb & Dweezil

He did everything he could to keep Lisa and the Dweez together, but I guess we all know how that worked out...