HERE IT IS! The Frank Zappa Celebrity Photo-Fantasy from the April, 1984 issue of Hustler Magazine. All text transcribed without permission. All capitalization and punctuation is as it was printed.
This is the famous Hustler pictorial in all it's tasteless splendor. No spiffy presentation, just the pics, down and dirty.
THING-FISH is beyond a doubt the most bizarre pictorial ever to appear in HUSTLER. As the magazine announced from its cover: "FRANK ZAPPA DIRECTS OUR 4th CELEBRITY PHOTO-FANTASY It's Big! It's Bizarre! It's Zappa!"
And here it goes for you now, the vigorous Hustler Pictorial, rub it!
(Click the thumbnails to see the entire image.)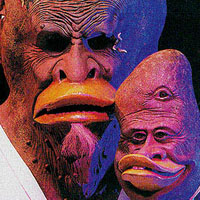 01. Marquee Poster
[Cover Page...Movie Poster format]
FRANK ZAPPA's
THING-FISH
Based on scenes from the impending Broadway musical, starring Ike Willis as the THING-FISH, Annie Ample as RHONDA, Robert Axelrod as HARRY, Phil De Carlo as THE UNKNOWN ITALIAN, with SISTER OB'DEWLLA 'X' and THE CRAB-GRASS BABY as themselves.
» Book & Lyrics: FRANK ZAPPA
» Directed By: FRANK ZAPPA
» Produced By: STEVE SAYADIAN
» Photographed By: JAMES BAES
» Cover Photo: LADI VON JANSKY
» Costumes: ROBERT FLETCHER, BELINDA WILLIAMS SAYADIAN
» Scenic Design: ROBERT FLETCHER
» Masks & Special Effects: JENE OMENS
» Makeup: RONNIE SPECTOR
» Unusual Props: EFFIE CAREY
» Crew: KENT TERANISHI, BOB McCABE, GREG DOUGLAS, KEN De MARTINES
Original Soundtrack Album Available On BARKING PUMPKIN RECORDS, P.O. Box 5265, North Hollywood, CA 91616-5265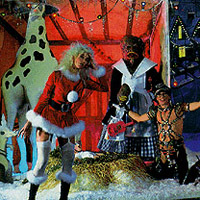 02. Front lawn of an unknown Italian
The front lawn of an UNKNOWN ITALIAN, somewhere in New Jersey, Christmas Eve 1983, 11:26 p.m.
HARRY (in submissive leather) demands to have his way with little SISTER OB'DEWLLA "X." THING-FISH (her legal guardian), convinced that the tiny creature is rugged and durable enough to withstand such abuse, agrees.
HARRY has accidently fallen in love with her and wants her to kick the shit out of him for Christmas. On bended knee he pleads: "Anything you say, Master! Take me, I'm yours!" This gives his wife, RHONDA, a terrific headache.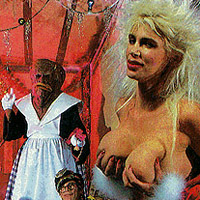 03. Disgusted with her husband's bizarre fixation
Disgusted with her husband's bizarre fixation, she attempts to reorient him with a shameless display of ornamental fatty tissue, shouting: "These are my tits, HARRY...my wonderful, wonderful tits...I'm going to pretend I'm squirting them on you! Wooosht! Pssht! Fwsssht! Almost Gotcha!"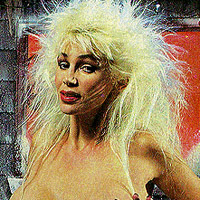 04. The unknown Italian worries
The UNKNOWN ITALIAN worries that behavior such as this will have an adverse effect on property values in his area.
Two weeks ago he received a copy of that hideous little book Pat Boone advertises (regarding HIS PERSONAL RELATIONSHIP WITH GOD). Believing every word of it, the UNKNOWN ITALIAN now regards himself as an expert in the field of Crisis Management...
he now has HIS OWN personal relationship with God and, like the rest of the Video-Christian species, an uncontrollable urge to inflict it on the silly-looking motherfuckers who inhabit his $27 Nativity Box.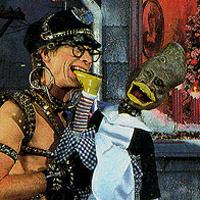 05. Stimulated, Harry begs
Stimulated, HARRY begs: "Hurt me! Hurt me! Oh! Pull my chain, you tiny potato-headed whatchamacallit!"
RHONDA removes the rest of her holiday outfit. After a deft tuck and moisten maneuver she attempts to entice HARRY with her steaming bush.
HARRY ignores it, still begging: "Hurt me, OB'DEWLLA! Make me wimper and beg for your tiny rubber love!"
06. Thing Fish remarks
When HARRY was a boy, he used to fuck the flamingos near the steps.
Knowing this, RHONDA, attempting theoretical proxy-lust, forces one of them to eat her shorts. THING-FISH remarks: "You's a sick, white muthafucker, ain'tcha? 'DEWLLA! Don't be pullin' de boy's chain too hard dere! He gots anothuh show t'do t'morrow! I knows y'caint hep y'seff wit dat crazy muthafucker 'busin' ya like dat! Jes hold on a lil' while longuh...he be droppin' de wad putty soon now!"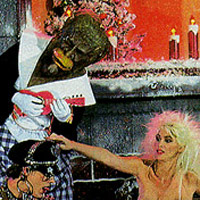 07. Antics on the lawn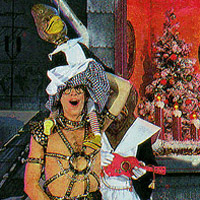 08. "Jesus! That was terrific!"
"JESUS! That was terrific! I've never experienced anything quite like that in a theatre before, RHONDA!"
"You're a worm, HARRY. Drop dead. God, you're disgusting! Don't touch me! YUCK!"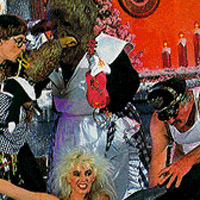 09. After dropping his imaginary load
After dropping his imaginary load, HARRY and his beloved enjoy a couple of Marlboros.
The UNKNOWN ITALIAN displays a traditional Sicilian home remedy for HARRY's rare mental disorder. RHONDA has decided that the only thing left for her to do is fuck her briefcase.
10. While assisting with the lubrication
While assisting with the lubrication of the enormous vinyl salami, he suggests that, out of respect for the clean-living, wholesome, all-American fellow who urged him to call for THE BOOK, any hint of "hair that smells like shrimp" must be concealed behind a small cardboard box.
11. Rhonda thinks it's a good idea
RHONDA thinks it's a good idea and announces: "I have my briefcase, HARRY... it's right over there...see it?
12. "I have my briefcase, Harry..."
It's BIG...it's BROWN...it's full of business papers from MY CAREER! I'm going to put my glasses on! I'm going to put my hair up in a bun...and then I'm going to FUCK, FUCK, FUCK!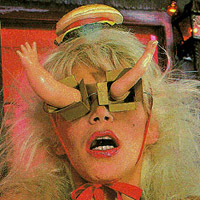 13. Baby arm glasses and hamburger hat
As if she had uttered THE MAGIC WORD, a discarded aluminum billboard refused by Elmer Valentine materializes behind her big, brown briefcase, showing Pat at the exact moment he discovered HIS OWN "personal relationship with God."
14. Pat Boone's airbrushed replica
While THING-FISH pretends that RHONDA's fountain pen tastes like corn-on-the-cob, Pat's airbrushed replica attempts a rare form of one-dimensional sodomy as practiced by retentive savages in Virginia.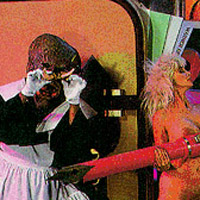 15. "I'm sucking the handle now!"
Relieving THING-FISH of his burden, RHONDA exclaims:
"I'm sucking the handle now! Look! Mmmmmm! It tastes good! I've got a fountain pen, HARRY! I'm going to stuff it up my asshole and ride the briefcase again, you disgusting, perverted bastard worm! Goddammit, watch me, HARRY! This is for your own good!"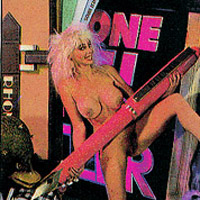 16. Fountain pen antics
17. More fountain pen antics
18. ... and one mo 'gin.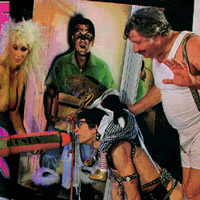 19. Fini
HARRY replies: "For chrissake, RHONDA! Have you no shame? Keep your briefcase closed...all your documents are falling out! Those are the Warner Brothers files, aren't they, dear? Don't you think there'll be some questions about the condition of the blue paper?"
RHONDA gives the zany Christian a ten-second combination mercy-jerk/nano-whiffette while inquiring: "Where are your real clothes, HARRY? Are you going back to Long Island like that?"
"I have nothing to be ashamed of! I have a LOVELY body! Everyone will understand! I've ACCOMPLISHED something tonight! I really believe that! I've found a sort of fulfillment other men only DREAM about!"
fini